Dean Smith — A Genius and a Gentleman
Perhaps the Greatest Basketball Coach Ever
Definitely One of the Finest Men Ever
"The magnitude of Dean Smith's life, as much as his coaching impact, can be seen and heard at any North Carolina home basketball game.
It happens each time his photograph is displayed on the building's video screens.
When the crowd response is loudest, longest and most genuine, you don't have to look up to know that Smith's image is on the boards."
____________________
Sportscentury on Dean Smith
— uploaded to YouTube by vslice02
____________________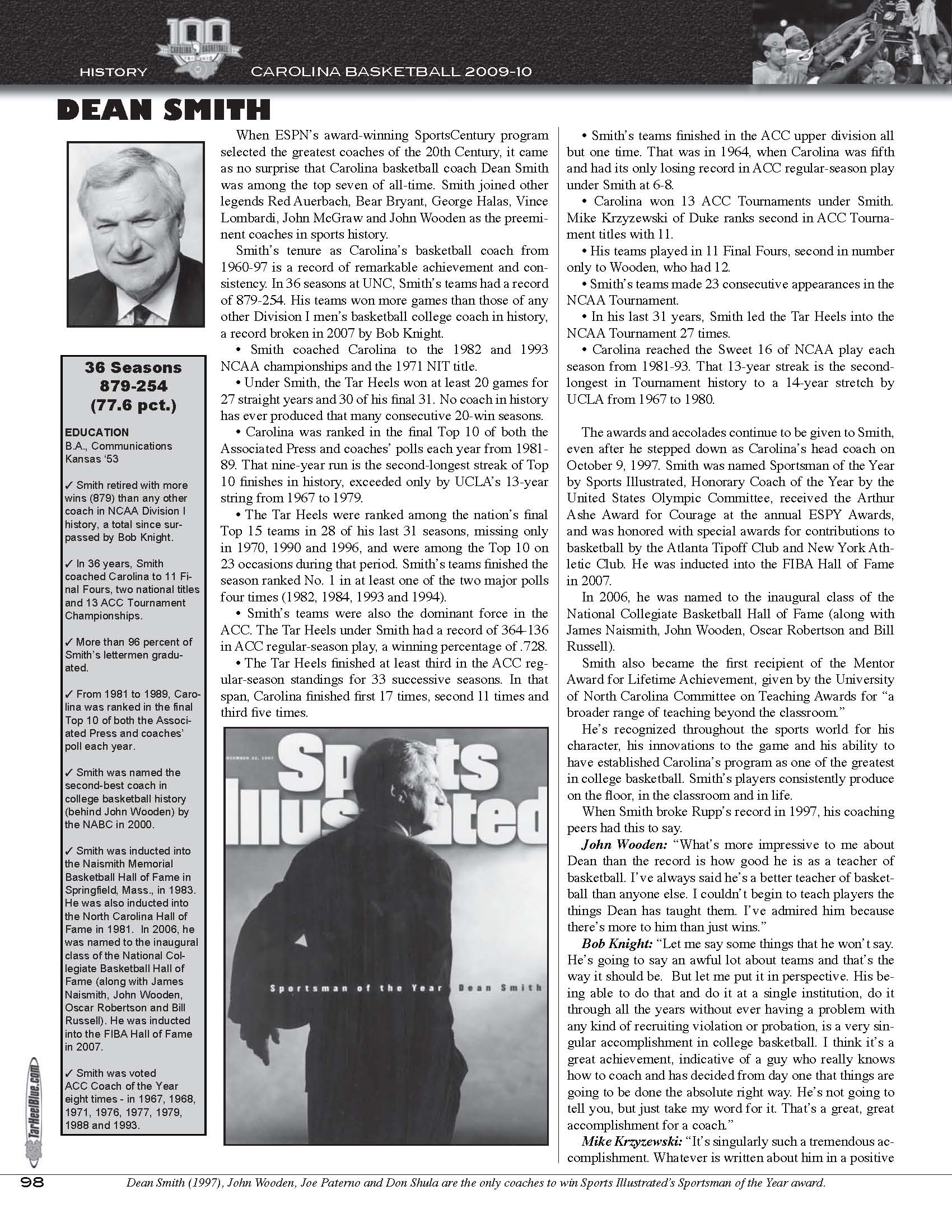 From 2010 Tar Heel Media Guide — Celebrating 100 Years of Basketball at the University of North Carolina.
For more: Complete 2010 Tar Heel Media Guide
____________________
A great collection with contributions from many, including the man himself: SI 1997 Sportsman of the Year issue
Thank you, Sports Illustrated, for capturing the essence of Dean E. Smith.
____________________
Dean E. Smith Quotes:
"I do believe in praising that which deserves to be praised."
"If you make every game a life and death proposition, you're going to have problems. For one thing, you'll be dead a lot."
"The focus should be on the players. I'm here a long time. You can call me in the summer. Our seniors will be gone."
"I always mean what I say, but I don't always say what I'm thinking."
"The NCAA and universities should not be in the business of marketing a product that is the leading cause of death among college students. Also, it should be noted that the alcohol advertising does not leave the younger audiences untouched. Ten year olds are rooting for their favorite teams, meanwhile, being subjected to the promotion of alcohol use."
"We need to understand that children start following athletics at the age of nine or ten. These beer ads are highly appealing to them. When beer companies say their ads aren't directed at young people, I find it hard to believe. Do you think the kids don't like the lizards on the Budweiser spots?"
"Ask yourself this question: If aspirin were the leading cause of death on college campuses, do you think chancellors, presidents, and trustees would allow aspirin commercials on basketball and football telecasts? They wouldn't, not for a minute."
"The presidents of colleges have to have some courage to step forward. You can't limit alcohol in college sports, you have to get rid of it."
____________________
Dean E. Smith retirement press conference October 9, 1997: